As drought continues to rage across the Great Plains states and remains a concern at home in Illinois, the USDA released their map earlier this week,, which you can conveniently see below, detailing areas eligible  for additional 'emergency funding'. As you can see, this area covers most of the United States, including the entirety of Illinois.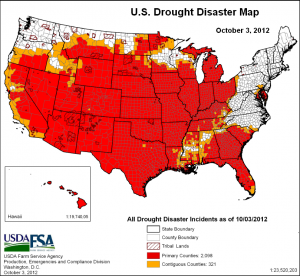 The money involved, when coupled with an additional $14 million that will be used courtesy the Emergency Conservation Program, will total roughly $30 million. According the the USDA's website, the funds are intended for livestock and crop producers and "can be used to assist in moving water to livestock in need, providing emergency forage for livestock, and (rehabilitate) lands severely impacted by the drought."  If you feel as though you may be elgible to receive some of these funds, you are urged to contact Scherrie V. Giamanco and Farm Service Agency branch of the Illinois USDA office.
Meanwhile, I'm going to enjoy the irony of posting this on a wet, gray central Illinois Friday afternoon.