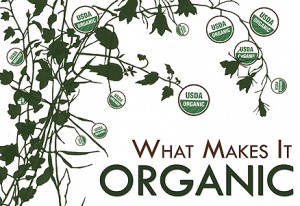 Earlier this week, we published an article on the gelling agent pectin and the restrictions against it, which are to be greatly relaxed come this November. Those restrictions can be found on the 'National List'; a list of 'allowed and prohibited substances' used in organic food production, run by the USDA. The List is a sacred book of right and wrong in organic agriculture. But who is responsible for what goes in and out of this hugely important list?
That would be the National Organic Standards Board (NOSB), a 15-member volunteer organization that advises the National Organic Program, which in turn is part of the Agricultural Marketing Service. They review and give a recommendation on all substances up for review for the 'National List'. And who are these 15 members? They are a cross-section of all levels of organic agriculture, designed 'to represent the diverse interests and composition of the organic industry'. The NOSB consists of:
4 farmers/growers
3 environmentalists/resource conservationists
3 consumer/public interest advocates
2 handlers/processors
1 retailer
1 scientist (toxicology, ecology, or biochemistry)
1 USDA accredited certifying agent
Each member serves for a period of five years, the same amount of time that a restriction of a substance last on the 'List' before it comes up for a review, called a 'sunset review'. This was the case for pectin, and the board, in its case, decided that pectin no longer deserved its ban. The board meets twice a year, once in the fall, then again in the spring. Members can be self-nominated or recommended by an outside source, with the entire board designed to represent 'the diversity of the organic community'.

An organization that has so much power over the things that go or don't go in our food needs to have more exposure, needs to be known to the public. The more we know about our food system the better, especially since, on the average, we know so little about it. If you'd like to know more about the nominating process for the NOSB, you can visit this site
all information on the NOSB found here