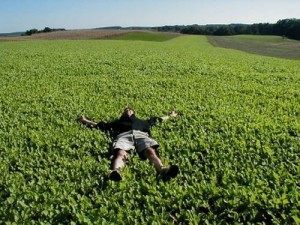 A movement is picking up steam to introduce radishes as a viable cover crop, and
for good reason, says a recent eOrganic publication co-authored by IOGA's very own Joel Gruver, of Western Illinois University. At the heart of the publication are the many potential benefits that radishes bestow upon a field in which they are planted. For starters, they provide almost complete weed growth control "both during and for some time after active radish growth". Furthermore, this weed suppression is documented in the piece as lasting until the summer months. Radishes also have been proven to penetrate deeper into cover soil than cereal rye, a staple cover crop. Such penetration, the article suggests, along with other factors such as nitrate leaching leads to "significant increases in corn and soybean yields following radishes as compared to fallow or other cover crops".
In short, this article covers the benefits, management and possible dangers of using radishes as a cover crop. The co-authors of this publication are Dr. Joel Gruver of WIU, Dr. Ray R. Weil of the University of Maryland, Charles White of Penn State University and Dr. Yvonne Lawley of the University of Manitoba. The full text is linked below.