Come to our aMaizeing field days to learn how the plant breeding landscape has evolved over the past century to change how varieties are owned and protected by intellectual property (IP) rights. Learn about how changes in IP rights and consolidation of the seed industry have reduced the availability and diversity of seed available to the organic sector, which is the fastest growing food sector in the United States. Even though the U.S. is among the world's top producers and exporters of organic grain, imports of organic corn have more than doubled annually during recent years due to excess demand.  This unmet demand, price premiums and exciting market opportunities are attracting interest in the development of new maize varieties that perform well in organic environments.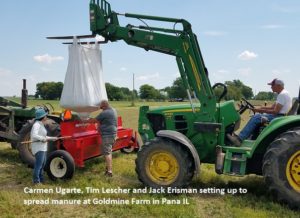 Our 2018 field days will introduce a regional effort to develop a network that includes plant breeders, farmers and end users that will work together to design and support plant breeding and testing efforts to serve organic farmers in the region.
Our first event will take place July 19 at 3100 North Rising Road, Champaign IL.
A morning session (8.30-11.30 am) will feature corn breeding plots (the nursery of crosses made from 'elite' U of I parental lines) where we are working to develop cultivars and increase seed that will be used by our on-farm testing network.  Attendees will see an example of a strip trial that is taking place on cooperating farms (Photo left shows measurement of cultivar emergence on Steve Buxton's farm). Cultivars being trialed this year on over a dozen farms include selections made by Martin Bohn (based on U of I's collection), and other private breeders including Walter Goldstein, of the Mandaamin Institute, who is a co-lead of our project, and Kevin Montgomery.
To register use this link
A Sept 13 Field day will be similar in structure and take place in Wisconsin (address 'details forthcoming').  It will feature N use efficient and weed-co

mpetitive cultivars that Walter Goldstein has been developing for the organic sector for years.
Both events will help attendees learn about how the university and independent breeders can use various breeding strategies (eg: hybrids, synthetics, open-pollinated) to develop new cultivars and, explain how we measure cultivar performance.  We will also briefly explain how replicated trials in IL at Jack Erisman's Goldmine Farm and Joel Gruver/Western IL's Allison Farm are being carried out to provide insights into the links between plant and soil health.
Folks who have an interest in increasing access to seed with particular traits (eg: nutritional or baking quality, color or unique origin?) or who want to help set breeding or network goals should get in touch with project lead, Carmen Ugarte (cugarte@illinois.edu) to see if one of our afternoon workshops might be of interest too!