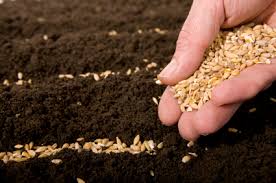 You can be a part of an effort to increase the diversity, resilience and flavor of our local food system!
The Normal Seed Library and Grand Prairie Grain Guild are looking for a few good gardeners and farmers to help grow out rare seeds.   This growing season is their first opportunity to start variety trials and grow out a diverse mix of open pollinated plants to increase their supply of seeds.
University Extension Educator Bill Davison is heading up this project and has purchased 25 different types of wheat, 6 dry beans and 12 different types of colorful dry corn.  The corn consists of old varieties of flour, flint, and dent corn that is meant to be ground and used as flour and eaten as cornbread, grits or polenta.  Many of these seeds have come from USDA seed banks and they are extremely rare and in very limited supply.  He has some packets with 20 wheat seeds in them!  The goal of this project is to multiply those seeds.  You do not have to have any experience growing grain to be a part of this project.  There are many advantages to starting with gardens and small plots on farms and ongoing support will be provided to teach you how to grow and manage these plantings.  These are seeds that need to be planted in April and May and depending on the variety and type of plant they will be harvested between July and October.  Each person will only get a small amount of seed that can be planted in a very small space.  For example 20 wheat seeds will plant 10 row feet. Dry beans can also be planted in very small spaces.  Corn needs a little more space and we will be looking for people with more room to grow out the corn.  Anyone with a plot 10 feet by 10 feet or larger can grow enough corn to ensure good pollination.
The goal of this project is to evaluate different varieties and find the ones that perform best in our area.  Once they learn which ones perform best, they will focus on increasing the supply of those seeds and sharing them through the seed library and grain guild networks.  There will be a couple of organized seed cleaning days in the fall to clean the seed and prepare for the next season.  To register for this project please take this short survey https://web.extension.illinois.edu/units/survey.cfm?sID=771&UnitID=477
To learn more, contact Bill Davison,
309-663-8306, wdavison@illinois.edu